Resources
The KCSS Resource Center locates and evaluates information regarding school safety practices from KCSS research, national databases, the Internet, education journals and other resources to keep the KCSS and the citizens of Kentucky on top of current information and trends.
Various handouts, reports and links are provided below assisting interested school personnel, law enforcement officers and school safety conscious community members.
Communicating Expectations for Parental Behavior – Kentucky School Leader – Since 2003, the Kentucky Center for School Safety (KCS) has conducted 971 Safe School Assessments across the Commonwealth of Kentucky. … KCSS conducted two statewide studies concerning parental ...
The Readiness and Emergency Management for Schools (REMS) Technical Assistance (TA) Center has released SITE ASSESS, their latest EOP Interactive Tool designed to support education agencies—both public and nonpublic—with emergency management and emergency operations plan (EOP) development.
School Safety Talking Points
View online programs and resources to assist schools as they respond to recent events. Topics discussed by Akers and Barrier:
Active shooter responses

Copycat threats

Metal detectors and book bag checks

Fire alarms

Teacher and student relationships

Parent responsibilities

Enter Name, Email Address and Passcode: 2018 to view
Video
School Safety on KET
Renee Shaw and guests discuss school safety. Scheduled guests: State Sen. Max Wise, R-Campbellsville, chair of the Senate Education Committee and co-chair of the School Safety Working Group in the Kentucky Legislature; State Sen. Reggie Thomas, D-Lexington, Senate Education Committee member; Dr. Joe Bargione, retired school psychologist from Jefferson County Public Schools; and Jon Akers, executive director for the Kentucky Center for School Safety.

Click here to view
On Wednesday, March 27, Governor Matt Bevin ceremoniously signed Senate Bill 1, also known as the School Safety and Resiliency Act, into law.

Click here to view more photos of this event
Click here to view SB 1
Active Shooter Training Video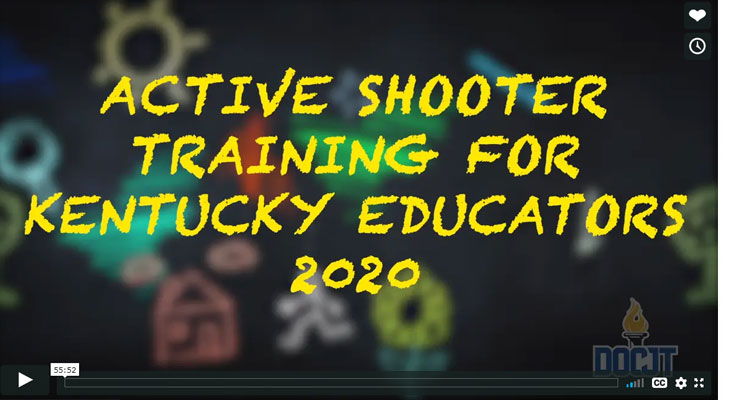 Active Shooter Training Video
The Department of Criminal Justice Training (DOCJT) has officially released the Active Shooter Training video as required by Senate Bill 1. Please see the link below to access this required training video. Please be reminded that any staff member (certified, classified or paraprofessional) who will have contact with students must view this video/training. For more information contact Ben Wilcox, School Security Marshal, DOCJT
Click here to view
Click here to read letter from Ben Wilcox
Vocational Training and KASA Presentation PowerPoints
Current resources distributed to districts during aftermath of school tragedies
Administrators' Resources: How Can Schools Cope with Tragedy? School Social Work Association of America - Resources to assist in working with students, schools, families and communities following a heartbreaking event. Also included materials helpful for crisis response planning and prevention as well as links to numerous organizations that can also provide help.
Helping Kids During Crisis American School Counselor Association - Many resources are listed to help during a crisis - websites, webinars, sample documents, publications, etc.
Safety Requirements for Schools
Timeline of Dates for Implementation of Senate Bill 1
Kentucky's current emergency plan law KRS 158.162, addresses the expansion of previous laws by requiring schools and districts to include community first responders in their emergency plans, and present an opportunity for review and refinement of current emergency and safety practices through continuous improvement. This expansion is a logical step taken after recent tragic events occurring in our nation's schools, ranging from intruders to tornadoes, and focus our attention once again on our goals and efforts to keep our students and staff safe.
KDE provides guidance through a brief outline pdf entitled
Emergency Management Plan-Frequently asked Questions
. Schools should review and refine their current Emergency Plan then share with their school council for adoption annually.
Adoption by the school council must occur prior to completing assurances in CDIP and no later than November 1st.
The Kentucky Crime Prevention Through Environmental Design Checklist for school construction is to be used in compliance with KRS 158.447. This is now a part of the BG-1 process. It is designed to create open discussion among school district officials, board member and licensed design professionals (aka architects) when they begin planning for new construction or renovation projects in a school district.
Download New School Safety Regulations Training Resources:
Incident Report form - for planning purposes: