Kentucky Center for School Safety
Coronavirus: CDC Resources for K-12 Schools and Childcare Programs
Plan, prepare, and respond to coronavirus disease

Cabinet for Health and Family Services: www.kycovid19.ky.gov
Kentucky Department of Education: https://education.ky.gov/comm/Pages/COVID-19-Updates.aspx

COPS Office Grant Announcement
COPS Hiring Program (CHP)
The 2020 COPS Hiring Program is a competitive grant program designed to advance public safety through community policing by addressing the full-time sworn officer needs of state, local, and tribal law enforcement agencies nationwide. CHP provides funds directly to law enforcement agencies to hire new or rehire existing career law enforcement officers and to increase their community policing capacity and crime prevention efforts. All local, state, and tribal law enforcement agencies that have primary law enforcement authority are eligible to apply.

Applications are due by March 11, 2020 at 7:59 PM EDT. Please click here for more information on the 2020 COPS Hiring Program.
Announcing the launch of SchoolSafety.gov, a new website designed to help schools and communities prepare for and address various threats related to safety, security, and support in schools. Further information is available at the following link:
Click Here
Just released: 2017-18 School Safety Data Report
The Kentucky Center for School Safety (KCSS) has released its 2017-18 School Safety Data Report, examining law violations committed in Kentucky's public schools.

Our Safety Story Pledge Map...Kindness*Unity*Empathy
KCSS thanks all who participated in Our Safety Story Pledge...Kindness*Unity*Empathy:

>1,000 Pledges: Floyd County, LaRue County, Pendleton County, Union County, McCreary County, Clinton County, Russell County, Warren County/ Bowling Green Independent, Campbell County/ Bellevue Independent/ Dayton Independent/ Ft. Thomas Independent/ Newport Independent/ Silver Grove Independent/ Southgate Independent, Muhlenberg County, Calloway County/ Murray Independent, Christian County, Johnson County/ Paintsville Independent, Bullitt County, Kenton County/ Beechwood Independent/ Covington Independent/ Erlanger-Elsmere Independent/ Ludlow Independent, Barren County/ Glasgow Independent/ Caverna Independent, Monroe County, Graves County/ Mayfield Independent, Breckinridge County/ Cloverport Independent, Boyd County/ Fairview Independent/ Ashland Independent, Henderson County, Marshall County, McCracken County/ Paducah Independent, Meade County, Hardin County/ West Point Independent/ Elizabethtown Independent, Boyle County/ Danville Independent/ Kentucky School for the Deaf, Grayson County
Click Here to Take the Our Safety Story Pledge...Kindness*Unity*Empathy
Click below to view a slideshow capturing Kentucky Safe Schools Week participation by students, educators, school support staff, parents, community members and other interested school safety supporters across the state. The slideshow ends with day-by-day images of how our pledges grew on the pledge map. The map's growth is all due to your participation in this year's Kentucky Safe Schools Week "Our Safety Story Pledge...Kindness*Unity*Empathy." We cannot thank you enough for your support during this week of school safety awareness and all that you do to focus on safety every day.
Kentucky Center for School Safety Receives William Nallia Award
The KASA Board of Directors selected the Kentucky Center for School Safety as the 2019 recipient of the William Nallia Award

Click here to view picture
Click here for more information
Active Shooter Training Video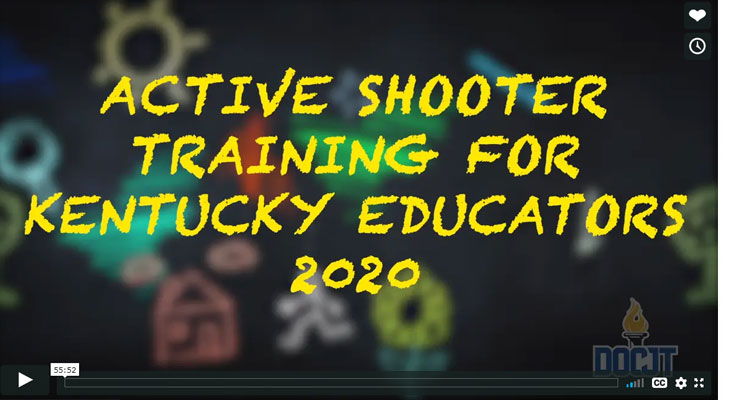 Active Shooter Training Video
The Department of Criminal Justice Training (DOCJT) has officially released the Active Shooter Training video as required by Senate Bill 1. Please see the link below to access this required training video. Please be reminded that any staff member (certified, classified or paraprofessional) who will have contact with students must view this video/training. For more information contact Ben Wilcox, School Security Marshal, DOCJT
Click here to view
On Wednesday, March 27, Governor Matt Bevin ceremoniously signed Senate Bill 1, also known as the School Safety and Resiliency Act, into law.

Click here to view more photos of this event
Click here to view SB 1
School Resource Officer Awards
Ray Chumbler receives the region 2 meritorious service award
at KYASRO.
It is with great pleasure that we would like to announce the 2019 Kentucky Association of School Resource Officers award winners. The award ceremony took place at the annual Kentucky Association of School Administrators (KASA) Leadership Institute at the Galt House in Louisville, KY on Wednesday, July 17th at 11:30.

These awards are well deserved and we are very proud of each nomination we received!
Tony Likins, Anderson County KYASRO School Resource Officer of the Year (View image on The Anderson News Facebook)
William Schwartz, Kenton County Educator of the Year
Bill Rudie, Fairview Ind.
KYASRO Award of Merit
Chris Shelton, Warren County
KYASRO Award of Merit
Senator Max Wise
KYASRO President's Award

E-cigarettes, "Vapes" and JUULs: What Schools Should Know
E-cigarettes, "Vapes" and JUULs: What Schools Should Know
Information on e-cigarettes, "vapes" and JUULs for schools to learn more about what they are, why kids use them and health risks. (American Lung Association)

Handout for schools – American Lung Association
Newly Revised Emergency Management Resource Guide
KCSS is proud to announce the release of the newly revised Emergency Management Resource Guide and Emergency Management Quick Reference Guide:
Check out our Emergency Procedures page with fillable forms linked from this document and Word documents to make it your own. School safety planning was never simpler!
Highlight on School Safety
School Safety Resources & Research
Arming Teachers to Mitigate School Shootings
- Arming Teachers as a Means to Prevent and Mitigate School Shootings: Assumptions, Readiness, and Contrast to Law Enforcement Officers Involved in Encounters with Armed Assailants, by Sheldon Greenberg, Ph.D., Johns Hopkins University
Metal Detectors in Clay County Schools
- The purpose of this paper is to explore benefits and complications with the use of metal detectors in a school setting. By: Deann Stivers Allen, PhD
What You Can Do to Help End Bullying... National Suicide Prevention Lifeline
While bullying doesn't cause suicide, a stressful environment and persistent, emotional victimization can increase a person's risk of suicide. Together, we can create awareness about the dangers of bullying and give emotional support to those who may be contemplating suicide. If you or someone you know is in an emotional distress or suicidal crisis, please call the Lifeline at
1-800-273-TALK (8255)
.
Current School Safety News