Teens - There's a lot to deal with on the Internet
—cyberbullies, privacy settings, gossip, … These resources can help teens navigate the Internet while guarding their reputation.
(netsmartz.org)

Kids … Online Actions Have Consequences
- The words kids write and the images they post have consequences offline. Kids should post only what they're comfortable with others seeing. …
(onguardonline.gov)
Social Networking Resources for Parents
Social Networking Tips for Parents - Parent advice and tips on social networking tips - Common Sense Media helps parents choose what's best for their kids. (commonsensemedia.org)
Social Networking Safety - National Crime Prevention Council - Tips for Parents. ... This site includes simple steps to help increase teens social networking safety.
Social Networking Resources for Teachers
The Social Me in Social Media Powerpoint

•Mindful …
of how we use social media
and how that relates –to school –and our lives
•Educate… our students, parents and our own children –daily life –and the future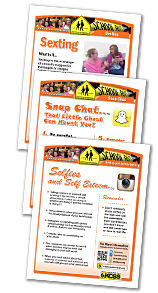 Sexting Handout - (KCSS) What is it… Sexting is the exchange of sexually suggestive messages or images between minors via cell phone. For example, a girl might take an "inappropriate" picture of herself and send it to her boyfriend. Includes five tips to staying safe.
Snap Chat - (KCSS) That Little Ghost Can Haunt You! Be careful... It might seem fun. Easy for anyone to save your snaps and forward them on without you knowing.
Selfies and Self Esteem - (KCSS) Taking a picture of yourself and posting it has become a virtual phenomena. Celebs are doing it, athletes are doing it and the President is doing it!
Educate Yourself About Apps.... Brief Descriptions of "Apps" and many have accompanying videos to keep you up-to-date about the last apps the students are using. (CommonSense.org)
Common Sense K-12 Digital Citizenship Curriculum
– Scope & Sequence - Navigating cyberbullying, privacy, safety, and other digital dilemmas are a real challenge for schools. This curriculum is designed to help students to think critically, behave safely, and participate responsibly in our digital world. It includes comprehensive resources for students, like lesson plans, student digital interactives, and assessments, as well as professional development for teachers and materials for family education.
Smart and Safe in Cyberspace: Social Networking 101 – National Crime Prevention Council - This Power Point presentation informs communities of the emerging trend of social networking and provides safety tips to help children and youth socialize safely online.
Social Networking for Kids - Common Sense Media - Common Sense Media editors help you choose social networking for kids. See what's out there ... Safe social networking for kids under 13.
Live Streaming Apps – Common Sense Media – Ratings - Parent help for evaluation of live streaming apps.
Smart Social Networking- Fifteen Tips for Teens (Cyberbulling.org) Don't let your social media use negatively effect your life, now or in the future. Use these 15 simple steps to safeguard your on line reputation.