KCSS thanks all who have participated in the online LEAN On Me; Stop the Bullying! Pledge across Kentucky:

Click Here to Take the "LEAN On Me; Stop the Bullying!" Pledge
Click Here to Check Your County's Statistics
>1000 Pledges: Livingston County, Russell County, McCracken County/Paducah Ind, Calloway County/Murray Ind, Floyd County, Marshall County, McCreary County, Breckinridge County/Cloverport Ind, Boone County/Walton-Verona Ind and Warren County/Bowling Green Ind
500-999 Pledges: Lee County, Magoffin County, Henry County/Eminence Ind, Boyd County/Fairview Ind/Ashland Ind, Pulaski County/Science Hill Ind/Somerset Ind, Morgan County, Edmonson County, Kenton County/Erlanger-Elsmere Ind/Ludlow Ind/Beechwood Ind/Covington Ind, Laurel County/East Bernstadt Ind, Muhlenberg County, Pendleton County, Crittenden County, Monroe County, Wayne County, Clay County, Clark County and Boyle County/Danville Ind
250-499 Pledges: Lyon County, Hopkins County/Dawson Springs Ind, Jefferson County/Anchorage Ind, Hickman County, Hancock County, Hart County, Caldwell County, Jessamine County, Wolfe County, Webster County, Cumberland County, Nelson County/Bardstown Ind, Harlan County/Harlan Ind, Marion County, Campbell County/Bellevue Ind/Dayton Ind/Ft. Thomas Ind/Newport Ind/Silver Grove Ind/Southgate Ind, Christian County, Henderson County, Bullitt County, Gallatin County, McLean County, Owen County, Madison County/Berea Ind, Perry County/Hazard Ind and Fulton County/Fulton Ind
50-249 Pledges: Ballard County, Union County, Gallatin County, Grant County/Williamstown Ind, Lewis County, Fayette County, Owsley County, Breathitt County/Jackson Ind, Trigg County, Elliott County, Graves County/Mayfield Ind, Grayson County, Butler County, Bath County, Greenup County/Raceland-Worthington Ind/Russell Ind, Barren County/Caverna Ind/Glasgow Ind, Casey County, Carlisle County, Trimble County, Powell County, Oldham County, Mercer County/Burgin Ind, Letcher County, Johnson County/Paintsville Ind, Rowan County, Anderson County, Scott County and Knott County
Gov. Beshear Proclaims 'Safe Schools Week'
FRANKFORT, KY - Governor Steve Beshear has proclaimed this week as Safe Schools Week in Kentucky, a designation that coincides with the first meeting of the Kentucky Youth Bullying Prevention Task Force. Read Article
Press Release from Governor Steve Beshear's Communications Office: Gov. Beshear Proclaims 'Safe Schools Week'
Designation coincides with first meeting of Kentucky Youth Bullying Prevention Task Force
FRANKFORT, Ky. – Governor Steve Beshear proclaimed this week as Safe Schools Week in Kentucky, a designation that coincides with the first meeting of the Kentucky Youth Bullying Prevention Task Force. Read Article
Judge Executive, Larry Elkins, and Mayor Pro Tem, Jason Pittman, Sign Proclamation
Declaring October 19-25, 2014, as Kentucky Safe Schools Week
Calloway County and the City of Murray, Kentucky
Click Here to Read More
Press Release...October is Anti-Bullying Awareness Month and
Kentucky Safe Schools Week- October 19-25, 2014
This year's theme "LEAN On Me; Stop the Bullying!" focuses on the culture/environment of the school and the interdependence of students and staff to make the culture safe, warm and welcoming. Key to the "LEAN On Me" concept is straight from the song lyrics, "sometimes in our lives we all have pain and we all have sorrow" learning to depend on fellow classmates, trust the adults at school and to treat others well will support the subtitle of "STOP the Bullying."
Click Here to watch the Ky Safe Schools Week 2014 Promotional Video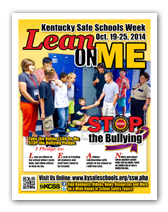 Get your community involved and prior to KY Safe Schools Week
promote it in your area; in the newspaper, on the radio, on your school website, there is no limit!
Booklet of Handouts
The Booklet of Handouts includes the online activities for Kentucky Safe Schools Week. This handbook offers ways to use the materials and ideas to assist you in the planning process. It is a multi-page booklet which will give you an overview of possible ways to use the resources provided.

Don't miss a thing! Browse through the table of contents and plan the perfect safe schools week for your school!
See what schools are doing around Kentucky! Click to View photos

Share photos of your KY Safe Schools Week Campaign with KCSS!
Send your photos to: ask@kycss.org
Watch Video: West Jessamine High School Safe Schools Week 2014 Video
Watch Video: Wayne County High School Safe Schools Week 2014 Video
Take the Pledge-"LEAN On Me; Stop the Bullying!"
Last year's theme
"LEAN On Me; Stop the Bullying!"
focused on the culture/environment of the school and the interdependence of students and staff to make the their school safe, warm and welcoming.
Click Here
to Take the "LEAN On Me; Stop the Bullying!" Pledge
Last year students across Kentucky took the online pledge from Paducah to Pikeville. Over 48,000 students, teachers, parents and community members pledged to STOP! Bullying, Violence and Risky Behavior in our schools.
Resources to include in your lessons or planning for creating a safer environment in your school.