Click Here to Visit our Bullying Page for Resources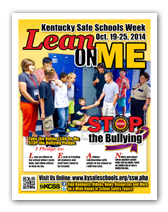 Get your community involved and prior to KY Safe Schools Week
promote it in your area; in the newspaper, on the radio, on your school website, there is no limit!
*COMING SOON* Booklet of Handouts
The Booklet of Handouts includes the online activities for Kentucky Safe Schools Week. This handbook offers ways to use the materials and ideas to assist you in the planning process. It is a multi-page booklet which will give you an overview of possible ways to use the resources provided.

Don't miss a thing! Browse through the table of contents and plan the perfect safe schools week for your school!
Take the Pledge-"LEAN On Me; Stop the Bullying!"
This year's theme
"LEAN On Me; Stop the Bullying!"
will focus on the culture/environment of the school and the interdependence of students and staff to make the their school safe, warm and welcoming.
Click Here
to Take the "LEAN On Me; Stop the Bullying!" Pledge
Last year students across Kentucky took the online pledge from Paducah to Pikeville. Over 48,000 students, teachers, parents and community members pledged to STOP! Bullying, Violence and Risky Behavior in our schools.
Kentucky Center for School Safety is proud to provide an email tipline to all Kentucky schools. The Safety Tipline, Online Prevention or S.T.O.P! Tipline is designed for use as an "online" reporting/prevention tool. If students, parents or community members know of an unsafe situation in school (bullying, weapons, drugs or alcohol, etc.), they can anonymously pass on that information to school personnel by using this basic email format.
For more info click here or call KCSS at 270-809-3235.