Kentucky Center for School Safety
Tornado Hits Oklahoma Schools
The Kentucky Center for School Safety grieves, along with the rest of the nation over the tremendous loss in Moore, Oklahoma. After a tornado carved a mile-wide path of destruction near Oklahoma City at approximately 3:00 p.m. on May 20th, the vivid pictures of children, educators and first responders mixed with the devastation at both Twin Towers Elementary School and Briarwood Elementary filled us with sorrow and compassion. Our thoughts and hearts go out to all families and residents in the surrounding area.
School Administrators, here are weather related resources and links for review:
· Emergency Procedures Checklist
· Universal Procedures
Evacuation
Reverse Evacuation
Severe Weather Safe Area
Shelter In Place Lockdown
Drop, Cover and Hold
· Emergency Management Guide
(Printable Full Version PDF)
COPS Office Hiring Grants are Released
New!

COPS Office Hiring Grants are Released
The U.S. Department of Justice, Office of Community Oriented Policing Services (COPS Office,
www.cops.usdoj.gov
) is pleased to announce that it is seeking applications for funding for the COPS FY2013 Community Policing Development Program. This program furthers the department's mission of advancing public safety through community policing by addressing the department's goal of assisting state, local, and tribal efforts to prevent or reduce crime and violence. Opening date: April 23, 2013
Applications must be submitted via the COPS Office Online Application System by 5:00 PM, EDT, on May 24, 2013 to be considered for FY 2013 CPD funding
For More Information
For a sample MOA/MOU:
http://www.kysafeschools.org/pdfs-docs/lawpdf/sromoa.doc
Operation Respect Workshop
Thanks to all those who attended and assisted in
the
"Operation Respect" Bullying/Violence
Prevention Curriculum Workshop
at Murray State University on April 10, 2013. The event was sponsored by
Kentucky Center for School Safety
,
Murray State University Center for Environmental Education
,
MSU College of Education
and
MSU Regional Outreach.
Click here to visit gallery
Safe Schools and Communities Conference
2013 10th Annual Safe Schools and Communities Conference
June 10-12, 2013
Marriott Louisville East
1903 Embassy Square Boulevard
Louisville, KY 40299

A wide variety of school safety topics will be addressed in the Safe Schools and Communities Conference. For the first time, law enforcement officers have teamed with school personnel to produce comprehensive school safety training sessions that address issues such as building security, drug abuse, active shooter psychology, bus crisis response, natural disaster response, suicide prevention, law updates, and much more.

Click Here to Register for this Event
Click Here to Download the Exhibitor Cover Letter
Click Here to Download the Exhibitor/Sponsorship Form
PRESS RELEASE

The Kentucky Association of School Resource Officers (KYASRO) is pleased to announce the recipients of several awards to be presented during the Safe Schools and Communities Conference. The conference will be in Louisville at the Marriott East on June 10-12
The awards and recipients are:

SRO of the Year: Officer Vernon Brown – Jefferson County Sheriff's Office/Western High Schol

Administrator(s) of the Year – Steve Butcher, Supt.-Pulaski County Schools; Kent Jackson Parrent, Asst. Principal – Christian County Schools/Christian County High School

Rookie of the Year – Officer Kent Keen-Barren County Sheriff's Office/Barren County Schools

Award of Merit – Officer Jeff May – Grayson Police Department/East Carter High School

New! The Primer to Design Safe School Projects in Case of Terrorist Attacks and School Shootings (Homeland Security)
CRIME PREVENTION THROUGH ENVIRONMENTAL DESIGN
The National Crime Prevention Council provides a School CPTED Training course - This course allows participants to use advanced Crime Prevention Through Environmental Design (CPTED) strategies and solutions to promote safety, orderly behavior, and a reduction of fear in the school environment. Also, view or download the CPTED Guidebook
Retired federal agents to staff Rowan County schools
May 10, 2013 — Rowan County Sheriff Jack Carter and Chief Deputy Joe Cline talked this week about how they could do more with less by putting retired federal agents in the school system. Read More
*NEW* CONNECTIVITY FOCUS GROUP
Conducted by the Kentucky Center for School Safety
Eastern Kentucky University, Richmond, Kentucky

This two-hour facilitated discussion focused on identifying factors that help and hinder positive teacher/student relationships. Nine teachers/counselors from six Central Kentucky school districts participated. The session ended with each participant sharing a personal "success" story of connecting with a student. Click here for more information
Watch the informational KYASRO video
created by DOCJT:
Protecting Our Most Valuable Resource
.
Tragedy at Sandy Hook Elementary School
Kentucky Center for School Safety grieves for Sandy Hook School and community because of the school shooting on Friday, December 14th. The loss of children and staff is such a senseless tragedy and our prayers go out to them during this time of great sorrow.
Click here for Resources
Highlight on School Safety
KCSS Announces... New Mobile Site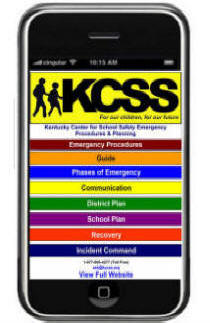 Kentucky Center for School Safety announces the launch of their new mobile site
. On any "Smart phone" or tablet, simply type in the
www.kysafeschools.org
web address and the mobile site will appear. The primary purpose for the mobile site is quick and easy access to emergency procedures for K-12 schools. Basically the emergency procedures and planning are at your fingertips for fast access when the need arises.
KCSS NEW MOBILE EMERGENCY MANAGEMENT WEBSITE
.
.....IT'S FAST
.
.....IT'S EASY
.
....IT'S FOR YOUR USE WHEN EVERY MINUTE COUNTS
The KCSS logo at the top and a link at the bottom of the homepage will still take you directly to the full KCSS website. Click to see a
PowerPoint
of the directory of the mobile site. Click to view an informational
Handout
.
School Safety Resource & Research
What You Can Do to Help End Bullying... National Suicide Prevention Lifeline
While bullying doesn't cause suicide, a stressful environment and persistent, emotional victimization can increase a person's risk of suicide. Together, we can create awareness about the dangers of bullying and give emotional support to those who may be contemplating suicide. If you or someone you know is in an emotional distress or suicidal crisis, please call the Lifeline at 1-800-273-TALK (8255).
Current School Safety News
Bullitt County Middle School Gets Results With Different Discipline Approach – May 21, 2013 - WFPL News- Seventh grader Charlie Cross sometimes gets frustrated with learning. "If I don't know what to do, I'll raise my hand and they'll go to other kids and then my hand will get tired so I'll put it down and I just lay my head down on the desk," he says. ...
Some schools building tornado-proof safe rooms - May 21, 2013 - USA TODAY - In both cases, the nation's eyes turned to the schools, and their safety in the face of a tornado. … We have to find what's best for the students academically and environmentally and what's safest …
Child Sense: Summer safety – May 20, 2013 - Lexington Herald Leader- Summer is a time for enjoying the great outdoors. When you are aware of your child's …making the experience … enjoyable and safer. …