National Summit on School Safety Tip Lines
June 25-27, 2018
State of Oregon Department of Public Safety
Standards and Training, Salem, Oregon
To register, click here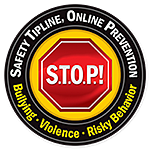 Since January 1, 2018, KCSS is proud to announce that the following partnerships have been added to the S.T.O.P.! Tipline: Newport Independent Schools, Fort Thomas Independent Schools, Clinton County Schools, Knox County Schools, Owensboro Independent Schools, Williamsburg Independent Schools, Muhlenberg County Schools, Allen County Schools, Christian County Schools, Dayton Independent Schools, Garrard County Schools, Red Bird Mission School, Trigg County Schools, Nelson County Schools, Breckinridge County Schools, Owen County Schools, Nicholas County Schools, Corbin Independent Schools, Jackson County Schools, Walton-Verona Independent, Fulton Independent Schools, Bowling Green Independent Schools, Clark County Schools, Russellville Independent Schools, Grant County Schools, and Wayne County Schools and in Fayette County: Academy for Leadership at Millcreek Elementary School, Julius Marks Elementary School, Cassidy Elementary School, Wellington Elementary School, Russell Cave Elementary School, Deep Springs Elementary School, Arlington Elementary School, Lansdowne Elementary School, Maxwell Elementary School, Ashland Elementary School, Booker T. Washington Elementary School, Athens-Chilesburg Elementary School, Picadome Elementary School, Southern Elementary School, Coventry Oak Elementary School, Glendover Elementary School, Northern Elementary School, Mary Todd Elementary School, Squires Elementary School, Stonewall Elementary School, Dixie Elementary Magnet School, James Lane Allen Elementary School, and Clays Mill Elementary School

For a list of all school districts on the S.T.O.P.! Tipline click here
For S.T.O.P.! Tipline resources click here
CHECK OUT THE SCHOOL CREATED VIDEOS BELOW...INFORMING THEIR STUDENTS ABOUT THE PROGRAM!
KCSS is proud to announce the release of the newly revised Emergency Management Resource Guide and Emergency Management Quick Reference Guide:
Check out our Emergency Procedures page with fillable forms linked from this document and Word documents to make it your own. School safety planning was never simpler!