Bullying
LESSONS - Links for classroom use
Thinkfinity- High Interest Novel for Struggling Readers
6-90 minute sessions for 9-12 graders
In many of today's schools, bullying and violence are prevalent. After completing this lesson, students will have a more in-depth understanding of these problems. Using a realistic, high-interest novel (The Bully by Paul Langan) and interactive reading strategies, students discuss many issues that surround bullying and consider what they themselves can do to prevent bullying.
YouTube Animated Story of Spookley- Elementary Lesson Plan
Spookley the Square Pumpkin by Pacer is a square pumpkin who lives in a round pumpkin patch world. In The Legend of Spookley the Square Pumpkin, a perennial fall favorite children's story, Spookley helps you understand that the things that make you different are what make you special.
Stop Bullying Now!
For many years, bullying was seen as a necessary evil -- an unpleasant, but unavoidable, rite of childhood. Ignore it, we thought, and eventually it will go away. The problem hasn't gone away, though, and educators can no longer afford to ignore it. Included: Education World offers ten activities for teaching kids about empathy, anger management, and effective conflict resolution.
Kids Bullying Kids
Coloring a Peaceful World
The Average Kid
Planet X
Reacting to Conflict
The Anger Suit
Bullying and Diversity Lesson: What's Your Name?
The Talking Stick
Bullying Reality Quiz
Websites and Webisodes for Teachers and Students
The following are interactive websites and webisodes for teachers and students to use in class to learn about bullying and how to "Stop Bullying" in their school.
PACER's SITE 4 TEENS This site for middle and high school students includes interactive sections on defining bullying, feelings about bullying, how to respond to bullying and scenarios/ testimonials from students who have been bullied. Search the website by clicking on the headings across the top of page, "Identify", "Respond", "Listen" etc., to access useful and up-to-date information about how to approach and prevent bullying.
Identify - This includes frequently asked questions about bullying (who?, what?, how?, and why?) This section could be used an introductory lesson on the 1st day of Safe Schools Week. There are several multiple choice questions that could be conversation starters and lead to a writing assignment.

Respond - This section explains how bullying effects everyone, so whether they are the target, the bystander, or even the kid who picks on others, there's something each person can do to put and end to bullying. Perhaps during Safe Schools Week these three responses to bullying could be used to start a word board, writing prompt, or group discussion.
Stopbullying.gov-kids Find facts, webisodes, and quizzes about bullying for kids. A federal government website managed by the U.S. Department of Health & Human Services is interactive, attention getting and engaging. The four sections children can choose from on this site are: "the facts", "what can I do", "kid videos" and "games". This format allows for both classroom and individual use.
PACER'S National Center for Bully Prevention
KIDS AGAINST BULLYING SITE
This site has many creative resources to educate elementary students about bullying. It includes an animated cast of characters, information, celebrity videos, Webisodes, interactive games, animation, contests, and other activities.
---Music Video
"Keep Your Eyes Open"
(created by an elementary school) is very insightful and might be a good starting point for a classroom discussion about bullying. The school principal discusses bullying after the student's perform a song about how others should stop and keep their eyes open to be a part of the bullying solution. For more resources for students: ---Click on the colorful words "Spot", "Stop", "Share", etc. to access the videos, posters, webisodes, etc.
National Crime Prevention Council
McGruff-The Crime Dog
McGruff the Crime Dog and pal, Scruff, bring ideas about kids staying safe through safety puzzles, games, videos, and coloring pages. The interactive games, videos, advice and downloads can be used for the classroom, computer lab or an individual computer. Watch the video, "Samantha's Choice" to find out how McGruff helps students know what to do to help stop bullying. There are games like "Stop the Bully" or "Stick Together" that also help students discover the right way to stop bullying in school.
Anti-Bullying Books, Crafts, Lessons & Ideas – Pinterest is an online pinboard where ordinary people share their ideas about a topic. The topic for this page is anti-bullying. There are books, crafts, lesson plans, posters, writing ideas, etc. Some of them seem pretty clever and thought they might be useful during Safe Schools Week. Check it out and see what you think.
FREE RESOURCE Operation Respect is a non-profit organization working to assure each child and youth a respectful, safe and compassionate climate of learning where their academic, social and emotional development can take place free of bullying, ridicule and violence. Founded by Peter Yarrow of the folk group Peter, Paul & Mary, the organization disseminates educational resources that are designed to establish a climate that reduces the emotional and physical cruelty some children inflict up on each other by behaviours such as ridicule, bullying and-in extreme cases-violence.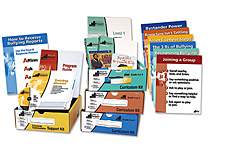 Committee for Children Curriculum
The researched based STEPS TO RESPECT program teaches elementary students to recognize, refuse, and report bullying, be assertive, and build friendships. In fact, a recent study found that the program led to a 31 percent decline in bullying and a 70 percent cut in destructive bystander behavior. This curriculum is one example of an evidence-based curriculum.
The Owning Up™
Lessons present a unique and comprehensive approach to preventing youth violence by targeting the root causes of bullying and other forms of social cruelty. It exposes the cultural expectations that teach young people to humiliate and dehumanize others as the way to achieve power and respect, then challenges them to transform this dynamic. A CD is included for a nominal fee.
Evidence-Based Programs and Curricula
Schools may choose to implement formal evidence-based programs or curricula. Many evaluated programs that address bullying are designed for use in elementary and middle schools. Fewer programs exist for high schools and non-school settings. There are many considerations in selecting a program, including the school's demographics, capacity, and resources. The federal government has developed evidence-based program registries that can help schools select a program. Some federal departments prioritize funding based on use of these programs. (stopbullying.gov)
Digital Citizenship and Cyberbullying Curriculum


Digital Literacy and Citizenship Curriculum - This FREE, pioneering curriculum is designed to empower students to think critically and make informed choices about how they create, communicate, and treat others in our ever-evolving, 24/7 digital world. (commonsensemedia)
The Federal Trade Commission manages OnGuardOnline.gov. OnGuardOnline.gov is a partner in the Stop. Think. Connect. campaign, led by the Department of Homeland Security, and part of the National Initiative for Cybersecurity Education, led by the National Institute of Standards and Technology. It has many free downloads and videos available for schools and communities.


Counselors/Media Specialists
Bullying Book Discussion Guide - Random House Inc - Includes Connections to Common Core State Standards @ RHTeachersLibrarians.com

School Counselor, Laura Barbour has taught and counseled children from preschool through high school and presently works as an elementary professional school counselor at Stafford Primary School in West Linn, Oregon.

These bullying prevention lessons are focused on developing a school culture of kindness and compassion; effective communication; problem solving and conflict management skills; strategies for students standing up for themselves and others; and the importance of reporting bullying behaviors to trusted adults. Laura believes strongly in the importance of quality literature for children to teach social and emotional skills. She seeks out books that are well written, relevant, and meaningful with believable characters that are relatable to children.
Ideas for Safe Schools Week: Prior to the lessons on individual books there is a vocabulary list and an activity called "Stand Up in Silence" with objectives that address how to develop a culture of compassion and caring in our classrooms and school community and to identify the different roles in bullying behaviors and acknowledge the roles we play. Lessons relating to books for Middle through Young Adult: "Social Status", "Popularity & Peer Pressure: Be True to You", "Teaching Kindness", "I Am Not a Stereotype", "Discussion Questions" Post Reading and "Internet Resources for Bullying Prevention"
Featured Books Include: "My Secret Bully" (Grades 1-4) "Just Kidding" (Grades1-4) "The Invisible Boy" (Grades1-4) "Trouble Talk" by Trudy Ludwig (Grades 1-4) "Confessions of a Former Bully" by Beth Adams (Grades 3-7) "Twerp" by Mark Goldblatt (Grades 4-7) "Wonder" by R. J. Palacio (Grades 3-7) "The Dark Days of Hamburger Halpin" by Josh Berk (Grades 7-up)
BULLYING: Handouts and Resources
Kentucky Center for School Safety has Bullying Handouts
available for students, schools and communities.
Bully Myths Handout

(2-Sided Flyer) –
Topics on this handout include: "Shattering the Myths of Bullying", "You Can Help", "Who's the Bully… Not My Child!", and "Why don't kids ask for help?"
What is a Bully? Handout

(2-Sided Flyer) –
Topics on this handout include: "Characteristics of Bullies", "Alarming Stats", "Characteristics of Victims", and "Long-Term Effects of Bullying"
Student Bullying Handout

(2-Sided Flyer) –
Topics on this handout include: "What is Bullying?", Are You a Bully?", "Students: What's with those bullies?", "Tell it or Spell it", "Watch Out Online!", and "Students: What you can do"
Parents' Bullying Handout

(2-Sided Flyer) – Topics on this handout include: "What is Bullying?", "Have they been guilty of bullying someone else?", "Parents: How to talk about bullying", "What's with those Bullies?", "5 Tips for parents to prevent bullying", and "Parents: Watch OUT online!"
Bullying: Suggestions For Educators
Educate the school staff and students on the real definition of bullying. Be consistent when enforcing policies and codes of conduct (after these have been revised and work for your school). Use an existing committee or form a school climate or safety committee to review data and ask guided questions about bullying in your school. Use surveys and the data from these surveys. These and many other suggestions are available on this handout.

When talking with your students use the Conflict vs. Bullying and Telling vs. Tattling charts. Everyone needs to know the difference in conflict and bullying, and telling and tattling. Review these in classrooms and place on the wall to refer to every now and then.
KCSS Mean Girl Bullying Handout: Parent Tips Suggestions include: Involve girls in activities outside of school so they are exposed to different types of people, and, encourage relationships with adults and other children who appreciate them for who they are.
From PACER: Talk to Your Child About Bullying
Parents can prepare themselves to talk with their children by considering how they are going to handle their child's questions and emotions. They can also decide what information they would like to give their child about bullying
English Handout
Spanish Handout
From SAMHSA: Get KnowBullying, the free app from SAMHSA that can prevent bullying
Research shows that parents and caregivers who spend at least 15 minutes a day talking with their child can build the foundation for a strong relationship and help prevent bullying.
Check out our
Handouts
webpage for others topics needed throughout the year.
A good definition is: Bullying is unwanted, aggressive behavior among school aged children that involves a real or perceived power imbalance. The behavior is repeated, or has the potential to be repeated, over time.


Types of Bullying:
Verbal bullying is saying or writing mean things. Verbal bullying includes things like teasing, name-calling, Inappropriate sexual comments or threatening
Social bullying refers to as relational bullying which involves hurting someone's reputation or relationships. Social bullying might be for example; leaving someone out of a group on purpose, spreading rumors about someone or embarrassing someone in public
Physical bullying involves hurting a person's body or their possessions. Physical bullying includes such acts as; hitting, kicking, pinching, spitting, tripping, pushing, taking or breaking someone's possessions.
Cyber-bullying is bullying that takes place using electronic technology. Which includes devices and equipment such as cell phones, computers, and tablets as well as communication tools including social media sites, text messages, chat, and websites.

Bullying PowerPoint Presentation
Professional Development Resources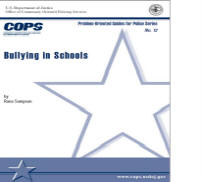 Bullying In Schools Perhaps more than any other school safety problem, bullying affects students' sense of security. The most effective ways to prevent or lessen bullying require school administrators' commitment and intensive effort; police interested in increasing school safety can use their influence to encourage schools to address the problem. This 66 page booklet examines bullying in schools. The problem and its sources and what is to be done about it. Schools can follow a school-wide plan to combat bullying. (Department of Justice – COPS)
Community Action Plan Materials
The Bullying Prevention Materials are research-based resources that can help you lead bullying prevention efforts in your communities. Bullying can be prevented, especially when the power of a community is brought together. Community-wide strategies can help identify and support children who are bullied, redirect the behavior of children who bully, and change the attitudes of adults and youth who tolerate bullying behaviors in peer groups, schools, and communities.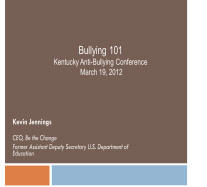 Bullying 101 Powerpoint from Bullying Symposium Understanding the Who, When and Why of Bullying, and What we Can do to Stop it. Bullying has long been excused as "part of growing up," but research increasingly indicates that it is a pervasive problem with severe impacts on student academic performance. Former Assistant Deputy Secretary of Education Kevin Jennings, explains the phenomenon of bullying and outline steps both institutions and individuals can take to reduce the incidence of bullying in their schools.




Bullying Prevention Powerpoint Project Respect
Thousands of students stay home every day because they fear harassment or bullying at school. More than one-third of Kentucky high school students say that they have been bullied. Learn how to combat bullying and create a safer learning environment with a positive message the whole school can rally around: RESPECT!
Bullying Prevention Powerpoint
To be used with school administrators when dealing with bullying problems in their schools. It can accompany the Bully Prevention Checklist below by Jon Akers, executive director of the Ky Center for School Safety.
Here are a few survey samples
Kentucky Bullying Law and Guidance, Sample Policies
Kentucky House Bill 91 "Bullying Bill"
AN ACT relating to the safety, learning, and well-being of students.
Amend KRS 158.440 to identify the Golden Rule as the model for improving attitude and the rule for conduct for all public school students; require school districts to have plans, policies, and procedures dealing with measures for assisting students who are engaging in disruptive and disorderly behavior... Text Summary (Kentucky Legislature)
KDE Guidelines to Assist Districts in Implementing HB91
-KASC Sample Policies for School Councils
State Educational Agency Model Anti-Bullying Policies… Kentucky's anti-bullying legislation (KRS 158.156) was codified in 2008 after the passage of House Bill 91. This legislation requires the Kentucky Department of Education to provide guidance to local school districts to assist with the implementation of the law at the local level. Additionally, the legislation requires that "model policies" (bullying, code of conduct, and supervision of students) be provided to school districts.
Map of State Bullying Policies & Laws
State and local lawmakers have taken action to prevent bullying and protect children. Through laws (in their state education codes and elsewhere) and model policies (that provide guidance to districts and schools), each state addresses bullying differently. Each state refers to bullying in its laws and what they require on part of schools and districts. By clicking the link above you can access a map with each state's information. (stopbullying.gov)
US Education Department Releases Analysis of State Bullying Laws ...
- The U.S. Department of Education released … Analysis of State Bullying Laws and Policies, a new report summarizing current approaches in the 46 states with anti-bullying laws and the 41 states that have created anti-bullying policies as models for schools.
Bullying Prevention Checklist:
- Jon Akers, Executive Director of KCSS, offer suggestions for principals to consider when establishing bullying/harassment standards within their respective schools. This is not an all-inclusive list…but it is a good start for principals to reflect and act accordingly.
FREE Hotline....What You Can Do to Help End Bullying...National Suicide Prevention Lifeline
While bullying doesn't cause suicide, a stressful environment and persistent, emotional victimization can increase a person's risk of suicide. Together, we can create awareness about the dangers of bullying and give emotional support to those who may be contemplating suicide. If you or someone you know is in an emotional distress or suicidal crisis, please call the Lifeline at 1-800-273-TALK (8255).
Incident Report forms are here for planning purposes from various resources and other states.